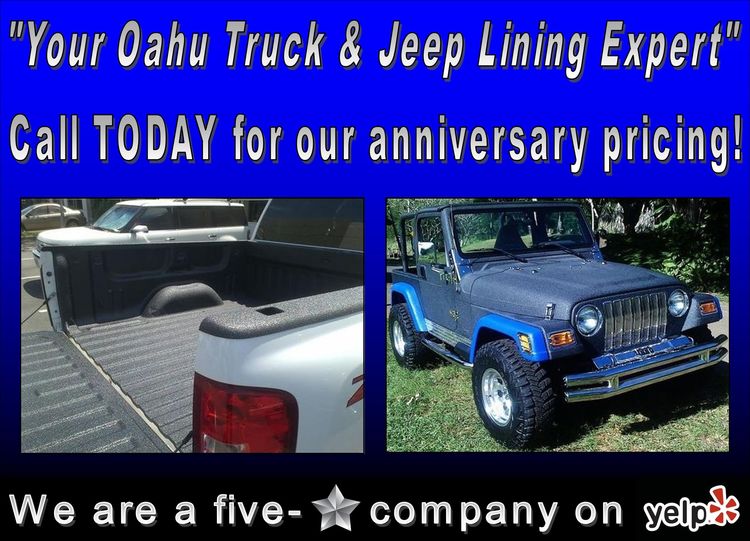 Located in Kapolei, Hawaii Spray Lining (HSL), LLC is proud to offer quality spray lining and protective coating services to the residents and businesses on the island of Oahu. Here at Hawaii Spray Lining, LLC we believe that if you want something done right the first time without headaches or worries, you go to an expert in that field. Here, we do one thing and one thing only--apply quality protective coatings with "surgical" precision and attention to detail. We ship in the strongest industrial grade bed liner material available in the United States, expertly apply it to your vehicle or project, and then put our name and guarantee on it.

At HSL, we like to think outside the box, and while industrial grade protective coatings are our speciality, we also have the ability to match colors and do custom work to give your project or vehicle a unique look using a product of unmatched strength. Depending on the nature of the job and your facility, we can even come to your place of business. Our material is a composition of pure 80/20 polyurea--a blend of chemicals that offers tremendous flexibility in addition to having industrial-grade strength, enabling it to withstand some of the heaviest abuse compared to other spray-on liners. It will not crack, chip, or delaminate over time, like many of our competitors' materials. Whether you wish to add protection to your new truck, line your off-road vehicle or boat, coat the inside of a work vehicle, or create a long-lasting, low-maintenance floor for your work place, HSL has you covered for whatever protective coating you could ever need. We offer a minimum Five-Year Warranty, with longer warranties available depending on the job. Also, we guarantee all our work, which means before you leave we will have you sign off saying the job was completed to your satisfaction. Give us a call today!


Please note: We do not store vehicles overnight in our warehouse so any vehicle that has not been picked up by the close of business will be parked out front of our facility where it was dropped off. This is public property and we do not assume any responsibility or liability for damages or theft incurred when a customer does not retrieve thir vehicle by 5pm. If a customer decides to leave their vehicle regardless of company policy they are responsible for any damages to it.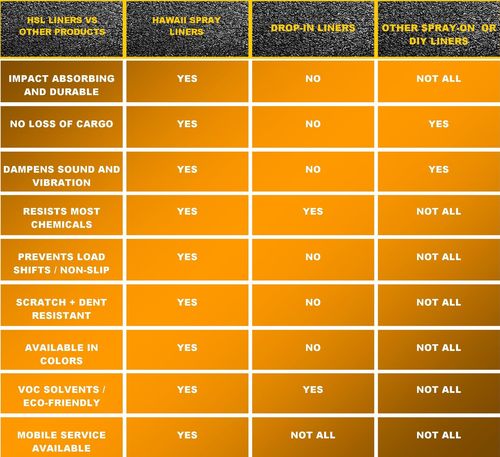 Hawaii Spray Liners is proud to introduce our service to the Honolulu area: Protective Truck Spray Liners and Commercial Protective Coatings.

With this service, you can easily and affordably protect your new truck's bed, company work van, trailer, or any vehicle's surface that you would like to have sealed and protected with an "armor-like" coating.

Additionally, we can coat a variety of other things like heavy equipment, hunting and off road vehicles,warehouse loading docks, stairs, ramps, retail store bathroom floors, spas, pools, and more. Here are some reasons why Hawaii Truck Spray Liner and Protective Coatings Service is right for your vehicle:
Get your Truck Spray Bed Liner from Hawaii Spray Liners in Honolulu, Oahu, Hawaii


Truck Spray Bed Liner and Commercial Protective Coating Services in Hawaii can be great when you call Hawaii Spray Lining and coatings to conveniently service your Truck or Vehicle's needs.

Here at Hawaii Spray Lining we guarantee you won't find Truck Spray Bedliner or Protective Spray Coating Service like this for your Vehicle, Truck's Bed Liner, or Commercial Project Islandwide.

We specialize in Honolulu Truck Spray Bed Liner and also Commercial Spray Coating Islandwide. If getting your Truck's Bed Treated with a Spray Bed Liner by a top notch lining company is important you, call Hawaii Spray Lining and see what the best is all about!